This post comes from many of the articles that have appeared in recent weeks following Russia's invasion of Ukraine and the shocking violence and destruction that has been the result. In addition to civilian lives lost, the art and artists of Ukraine are facing destruction and loss. Museums scramble to protect their collections, galleries are forced to shutter their doors, and artists are trying to survive and find safety. With war comes destruction and museums and cultural institutions, filled with art and cultural heritage, have already been targeted in Ukraine. Similar loss has been seen for decades in the Syria, Afghanistan, Libya, Iraq and so many other countries torn apart by war. (To view some of the sites still at risk, visit UNESCO's World Heritage in Danger List) How do you protect or replace priceless heritage, history, and memory?
We discussed previously the work of the Monuments Men during World War Two, who were tasked with protecting and retrieving art at risk during the war. In recent wars, the responsibility for protecting cultural heritage has fallen on the local communities under attack to arrange for removal, storage, or protection of cultural sites. In Syria, many citizens volunteered their time to protect their heritage, working with local authorities to protect archeological digs and museums from looting which has ravaged much of the country's cultural collections. As of 2021, Afghanistan has warily accepted protection of their museums and heritage sites from the Taliban who have vowed to protect it, but fears arise that the militants could reverse their promise and target heritage sites like they did with the destruction of the 1500 year old Buddhas of Bamiyan in 2001.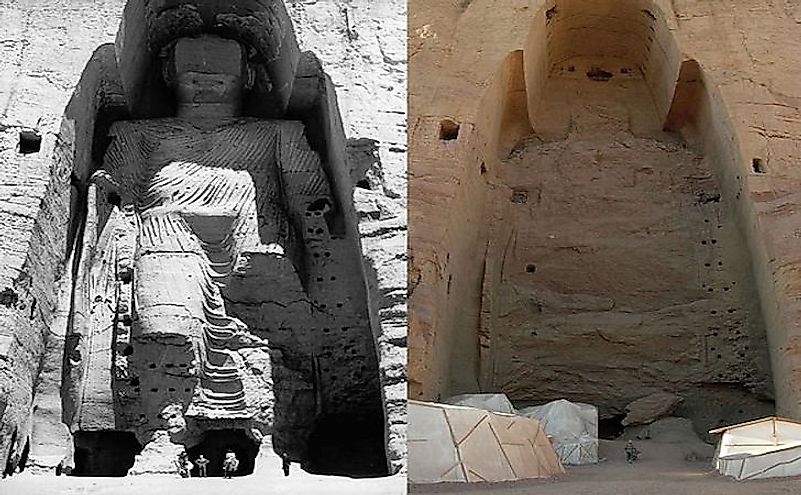 Where does that leave Ukraine?
While millions are fleeing the country for Poland, Hungary, Moldovia, Romania, Slovakia, and many more, many of those who remain behind are working to protect their heritage. In Lviv, the country's cultural capital, many are working with local officials to protect historic sculptures seen throughout the city. Locals are wrapping plastic sheets around the 200 year old sculptures of Greek and Roman gods and goddesses located in the city's central Market Square. The Lviv Foundation for the Preservation of Architectural and Historical Monuments has been working throughout the city with officials and locals to address concerns. On their Facebook page, they posted photos of a worker boarding up the stained glass windows of the city's 17th century Dormition Church in hopes of protecting them from any potential attacks.
Also in Lviv, the Andrey Sheptytsky National Museum, the largest art museum in Ukraine is packing their collection away to protect it against any possible westward advancement. Since closing their doors February 24th, the museum has been racing to secure their collection against any possible damage. In an interview on March 5th, director of the museum museum General Director Ihor Kozhan said: "Sometimes the tears are coming because a lot of labor has been put in here. It takes time, energy. You are doing something good, you feel pleased. Today you see empty walls, so it feels bitter, sad. We didn't believe it till the last minute that this could happen." Kozhan has received calls from cultural institutions across Europe offering to help. While much of their collection has been packed up, there is still questions about where they are going to store everything. The museum understands its important place in preserving the history of Ukraine, "Museum has to live. People have to be there, and first of all children. They have to learn the basics of their culture," Kozhan added.
The Ukrainian Foreign Ministry also announced that about 25% of the works by beloved folk artist Maria Prymanchenko have been lost in an attack on the artist's hometown of Ivankiv when the museum where many of her works were held was burnt down. In 1966, Prymachenko was awarded the Taras Shevchenko National Prize of Ukraine, the highest prize awarded to artists in the country. When locals noticed the museum was on fire, many rushed in and in an interview with her great-granddaughter, Anastatiia Prymanchenko, she revealed that ten of her great-grandmother's paintings were saved by a local man who rushed into the museum while it was on fire.
Those displaced by the war are still finding ways to protect their culture and heritage from afar. Ukrainian art gallery owners, Julia and Max Voloshyn are stuck in the United States after coming to Miami five months ago. Back in their home of Kyiv, their gallery, located in the basement of a historic building is being used as a bunker where their friends stay at night. While they watch the news coming out of Ukraine, the pair have been exhibiting five Ukrainian artists in a pop-up gallery. Many of the works included in the show resonate with the current news, such as a photograph of a building damaged by artillery in Donbas in 2015.
Amongst all this news is a sense of community, a country coming together from far and near to protect their shared history. These stories of locals running into burning museums to save a beloved artist's work, of locals working together to protect sculptures and stained glass windows, of staffers working quickly to preserve the cultural history of their home, they show a country fighting not only a physical war, but a cultural war and a war against time.
Here are ways you can get involved and help Ukraine: https://www.globalcitizen.org/en/content/ways-to-help-ukraine-conflict/
-Claire Sandberg