Sofonisba Anguissola was an Italian Renaissance painter born to minor nobility in Cremona, Italy. She was the eldest of seven; six sisters and one brother. Her father, Amilcare, insured his children received a proper education in the humanities and fine arts and he arranged for Sofonisba and her sister, Elena, to study with Bernardino Campi, a Cremonese painter. After finishing her artistic education, she went on to travel Italy extensively. Her father advocated for her career and sent her works to various courts throughout the area to display her talent. During this time, she traveled to Rome where she was introduced to Michelangelo and the pair exchanged drawings and letters for many years after. In 1558, she traveled to Milan where she painted extensively and gained the attention of the Spanish Royal Court. As a young noblewoman, the ideal path for her was to become a member of a noble court and she recognized her artistic abilities set her apart from other female courtiers.
Anguissola was invited to join the royal court in Madrid as a lady-in-waiting for Philip II's third wife, Elizabeth of Valois, in 1559. Anguissola instructed the queen in drawing and painting and also painted several portraits of members of the royal family. After the queen's death, Anguissola was invited to remain at court and served as a governess for Elizabeth's daughters, the two young Infantas. After nearly twenty years in Spain, Philip II arranged for Anguissola to marry. While it was in his best interest to marry her to a Spaniard, the nearly 40-year old woman requested the king find her an Italian husband. In 1571, Anguissola married a Sicilian nobleman of Spanish descent, Fabrizio Moncada Pignatelli. She received a royal pension and she continued working as a painter while living in Sicily with her husband, although there is only one known work made during this period for her husband's ancestral home. Her first husband passed away unexpectedly in 1579 after his ship was attacked by pirates. Widowed, she turned to the Spanish court and her younger brother for support. Two years later, while traveling to Cremona from Sicily, she fell in love with the ship's (younger!) captain and married Orazio Lomellino, a noble sea merchant in December 1584. Neither her family nor the Spanish court approved of the marriage, but she still continued to receive financial support from the Spanish court throughout the rest of her life.
Due to her husband's small fortune and her royal pension, Anguissola lived comfortably and painted freely. The two lived between Genoa, her second husband's home, and Palermo. She received many visitors to her home, particularly young artists eager to learn from the infamous artist. She cultivated a community of artists, poets and scholars who visited her home. Nearing the end of her life, Anguissola and her husband settled in Palermo. In 1624, the Flemish painter Anthony van Dyke traveled to Anguissola's home in Sicily after hearing of her skill, perhaps from the now-grown Infanta Isabella Clara Eugenia who was the sovereign of the Spanish Netherlands. He sat with her all day, listening to her stories about her time in Spain and her experience as an artist. He recorded in his notebook that at 92 years old, she was still very alert and she taught him more about the "true principles of painting" than anything else in his life.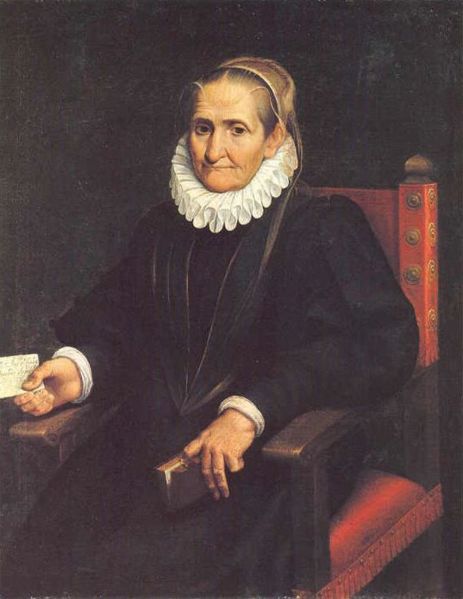 After her eyesight began to fail and she had to stop painting, Anguissola continued to be a prominent patron of the arts until her death in 1625. She is buried in Palermo at the Church of San Giorgio dei Genovesi. On what is believed to have been her 100th birthday, her husband placed an inscription on her tomb that read:
"To Sofonisba, my wife, who is recorded among the illustrious women of the world, outstanding in portraying the images of man. Orazio Lomellino, in sorrow for the loss of his great love, in 1632, dedicated this little tribute to such a great woman."
---
Resources for Further Study:
Barker, Sheila. Women Artists in Early Modern Italy: Careers, Fame, and Collectors. Edited by Sheila Barker. London: Harvey Miller Publishers, an imprint of Brepol Publishers, 2016.
Cole, Michael. Sofonisba's Lessons: A Renaissance Artist and Her Work. Princeton: Princeton
University Press, 2020.
Ferino-Pagden, Sylvia, Sofonisba Anguissola, and Maria Kusche. Sofonisba Anguissola: A
Renaissance Woman. Washington, D.C: National Museum of Women in the Arts, 1995.
Garrard, Mary D. "Here's Looking at Me: Sofonisba Anguissola and the Problem of the WomanArtist." Renaissance Quarterly 47, no. 3 (1994): 556-622.
Gómez, Leticia Ruiz. A Tale of Two Women Painters: Sofonisba Anguissola and Lavinia
Fontana. Edited by Leticia Ruiz Gómez. Madrid: Museo Nacional del Prado, 2019.
Jacobs, Fredrika H. "Women's Capacity to Create: The Unusual Case of Sofonisba Anguissola", Renaissance Quarterly, Vol. 47, No. 1 (Spring 1994): 74-101.
Perlingieri, Ilya Sandra. Sofonisba Anguissola: The First Great Woman Artist of the Renaissance. New York: Rizzoli, 1992.